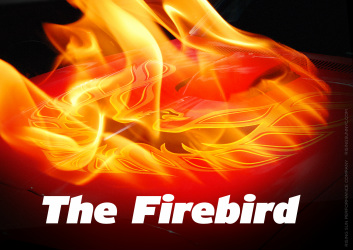 Nominated for 5 PCTF Awards!
Outstanding Actor, Outstanding Supporting Actor, Outstanding Sound Design, Outstanding Set Design, Outstanding Cameo Role
"The dialogue, direction and acting are solid. Brooklyn might as well be ancient Thebes, since all the intergenerational conflicts, power struggles and tragic flaws can be found there. Fortunately, this play makes you feel good afterwards and appreciate what you have. Hail, tragedy. "
Pride, Lust and Memory make a cocktail the mean streets of Brooklyn ain't never seen. Watch your back.
Rising Sun Performance Company
in association with
Planet Connections Theatre Festival
Presents
A WORLD PREMIERE

THE FIREBIRD
By Tim Errickson
Directed by Brian Gillespie
Assistant Director NJ Agwuna+
Stage Manager Nicole Kuker
Design Team: Jak Prince+, Ian Werhle, Oona Tibbetts
Featuring: Andrea Cordaro+, Gabriel Wright*, Jacqueline Sydney*, James Ware,
Michael Romeo Ruocco* and R. Paul Hamilton*

| | |
| --- | --- |
| Dan comes home to the Brooklyn neighborhood of his youth with a mission: to stop his best friend Ricky from destroying himself. Ricky thinks he's the prince of the block, despite a looming debt and a creeping sense of danger all around. Pride, love, lust, and memory challenge whether either of them can outrun the fate coming to them. | ALL TICKETS ARE $18 |
ONLY 6 PERFORMANCES!
Performance Schedule:
Thursday June 25th at 7pm
Thursday, July 2nd at 5pm
Sunday July 5th at 2:30pm **
Monday July 6th at 5pm
Wednesday July 8th at 8:15pm
Saturday July 11th at 2pm NO LATE SEATING PERMITTED SPECIAL EVENT
FREE AUDIENCE TALK BACK WITH CAST & CREATIVE TEAM
SUNDAY JULY 5TH AT 5:30PM AT STILLWATER BAR & GRILLRSVP HERE

LOCATION:
The Paradise Factory
Upstairs Theatre
64 E 4th St
Btw. 2nd Ave & Bowery

Public Transit:
6 Train to Bleeker Strett
N/R to Broadway/8th St
F Train to 2nd Avenue

There is limited street parking
allow extra time if driving
| | |
| --- | --- |
| is New York's premiere eco-friendly/socially conscious not-for-profit arts festival. Fostering a diverse cross-section of performances and events, the Planet Connections Theatre Festivity seeks to inspire artists and audiences both creatively and fundamentally, in a festive atmosphere forming a community of like-minded artists. At the heart of the Festivity are like-minded individuals striving to create professional, meaningful theatre, music and film, while supporting organizations which give back to the community at large. | |
Actors' Equity Association

(AEA), founded in 1913, represents more than 45,000 actors and stage managers in the United States. Equity seeks to advance, promote and foster the art of live theatre as an essential component of our society. Equity negotiates wages and working conditions, providing a wide range of benefits, including health and pension plans. AEA is a member of the AFL-CIO, and is affiliated with FIA, an international organization of performing arts unions. The Equity emblem is our mark of excellence.

www.actorsequity.org

Run Time: 120 Minutes
Categories/Themes: Social Status, Gentrification, New York City, Family Relationships
Content: Adult language, Some Adult Content & Situations, Mild Violence, Recommended for 16 and older

An Equity Showcase Code Production
*Actor appears courtesy of Actor's Equity Association
+ Represents Rising Sun Performance Company Ensemble Member GRAPHIC DESIGN BY MARY HAWKINS
Photo Credits for Graphic:

Choo Yut Shing and Simon Yeo via