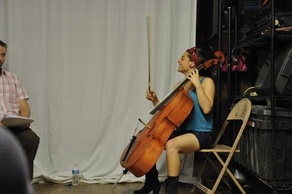 "Let's just say, it takes deliciously sick minds to come up with this stuff, and its pure delight to go along for the ride"
….Mary Hilton, Newbie NYC theatre blog
DONATE

Rising Sun Performance Company is a sponsored project of Fractured Atlas, a non-profit arts service organization. Contributions for the charitable purposes of Rising Sun Performance Company must be made payable to Fractured Atlas only and are tax-deductible to the extent permitted by law.

VOLUNTEER

Are you passionate about theatre?

Love our work?

Unable to make a financial contribution but want to help?

GREAT!

We are always looking for Volunteers in all areas

Front of House (Ushers, Box Office & House Managers)
Back Stage (Props, Run Crew, Dressers, etc)
Administrative Support
Fundraising & Special Events
Transportation for show load in and out

Interested in learning more or signing up?

GREAT! Please contact us!