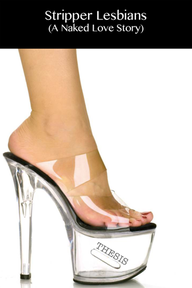 Horse TRADE Theatre Group
"BLAZE of GLORY"
PRESENTS
RISING SUN PERFORMANCE COMPANY'S
STRIPPER LESBIANS
A Naked Love Story…
Written by Kate Foster
Directed by Jak Prince
Featuring Amanda Berry, Joe Beaudin & Samantha Cooper
Sound Design by Jeff Woodbridge & Jak Prince
Choreography Support: Ashliegh Herndon
March 28th & 29th 2013, 10:30PM @ THE RED ROOMA FESTIVAL HIT! CATCH THE LIMITED REMOUNT! " The strength of the characters is what makes Stripper Lesbians an enjoyable night at the theater" "..all-time-classic hang-your-hat-on-it bit of genius""Stripper Lesbians is a play that will surely continue on past the duration of The Frigid Festival"
"One of the 5 MUST SEE Shows at This Years' FRIGID Festival"
CHECK OUT ALL OF THE BUZZ HERE
READ THE FULL REVIEWS:
NYTHEATRE
NY TIMES LOCAL
THEATRE IS EASY


Entering their 11th Season, the critically acclaimed Rising Sun Performance Company is thrilled to return to FRIGID for the third time, presenting the world premiere of "Stripper Lesbians". Stripper Lesbians, was developed within Rising Sun's new Resident Playwright and Laboratory Programs, and written specifically for and developed by RSP Ensemble Members.

Evan, a woman's studies major, is writing a killer senior thesis-- by becoming a stripper at her favorite strip club. In between her current girlfriend, a stripper-lesbian, and her ex boyfriend, an unemployed Tisch graduate, Evan dances the line between love and betrayal. A comedy about what it really means to be 'in love with a stripper' (cue R&B) and what it means to become one.

Only 2 performances!
Thursday March 28th 2013 @ 10:30PM
Friday March 29th 2013 @ 10:30PM


Venue:
The Red Room
(85 East 4th Street between 2nd Ave and Bowery)
Run Time: 55 Minutes

Tickets ($15/$12 students w/ ID) are available online at Smarttix or by calling Smarttix at 212-868-4444.

Festival Publicity is provided by Emily Owens PR

emily@emilyowenspr.com
917-408-3677

Categories/Themes: One Act Play, Comedy Adult Themes, Women's Studies, Social Status
Content: Some adult language/Situations
Recommended for 13 and older
---
---
The Creative Team
Amanda Berry

Originally from San Antonio, TX, Amanda moved to New York to attend NYU's Tisch School of the Arts, where she earned her BFA in Theater. Currently a member of Rising Sun Performance Company, she is enjoying collaborating on new work such as

Stripper Lesbians

, and her most recent show - a staged reading of the new musical

Sympathy Jones

(Caprice).

www.amandaberry.us

Joe Beaudin

finally reaches his goal of being in a play called STRIPPER LESBIANS. Yes! Joe is an ensemble member of Rising Sun Performance Company and was most recently in their one-act series, CRAVINGS, at the Red Room Theater. He was also a part of last year's Frigid Festival in GOODNIGHT LOVIN' TRAIL (also at the Red Room), as well as Rising Sun's production of THE LAST SUPPER (again, at the Red Room - he likes red rooms). Other favorite Off-Off Broadway roles include: Sir Andrew in TWELFTH NIGHT, Young Pappy in THE TINKLEPACK PATROL and his 5 year stint with the sketch comedy group Mini Red Satan. Regional Theater: Arnold in THE BOYS NEXT DOOR (Connecticut Repertory) & Bill Clinton in STARR'S LAST TAPE (Berkshire Theatre Festival). Mucho Loveo for D and bb.
Samantha Cooper

is overjoyed to support Rising Sun as a swing in a work by the lovely Kate Foster. Recent credits include Sandy (Goliath) at the Wild Project and in the Planet Connections Festivity, for which Sam was nominated for Best Supporting Actress; My Angry Vagina (The Vagina Monologues) at the Snapple Theatre Complex; Viola (Twelfth Night) and Beatrice (Much Ado…) with Communicable Arts; Julie/Clotho (Ravel) at the Looking Glass, Jess (One Night) on tour with Equalogy, Inc.; Hermia (Midsummer…) with Hudson Shakespeare; Lisa (The Killing of Jacob Marr) with 221 Films. She received her B.A. in Theatre from UC San Diego, and has trained at Shakespeare Santa Cruz, A.C.T., Circle In The Square, and with Karen Kohlhaas. Sam dedicates her work to Toby, always.

Kate Foster

a NYC-based playwright, singer and actress, is thrilled to continue her relationship with the FRIGID festival and Rising Sun Performance Company. Kate's plays have been produced and/or developed by Rising Sun (FRIGID 2010 (A SECRET SHOW), FRIGID 2011), Manhattan Actors Company (@ Player's Loft, May 2011), Poetic Theater Productions (@ the Wild Project), and Primary Stages ESPA. As an actress, Kate has worked with Elephant Run Productions, ArtEffects and Hudson Warehouse, and sung with Randy Graff and Debra Monk. Thanks to the cast, crew, director, festival staff, friends of Stripper-Lesbian in development and performance!