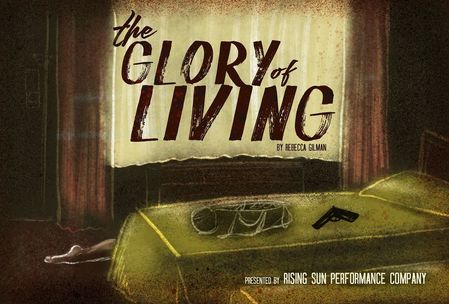 Rising Sun Performance Company
in association withPlanet Connections Theatre Festivity
​The Revival of the Pulitizer Prize Nominated PlayPresentsThe Glory of Living"You don't know what normal is..." by Rebecca Gilman Directed By Akia
Assistant Director Anna Hogan
Assistant Producer: Ronald Kitts
at the Planet Connections Theatre Festivity
June 12th thru July 9th 2017
Clemente Soto Velez Cultural Center
A harsh exploration of the human condition and terrifying results of systematic abuse in our society today. The Glory of Living tells the story of Lisa, a 15-year-old girl, and her marriage to Clint, an ex-con twice her age. Systematically abused by her husband, Lisa is coerced into helping him commit crimes of varying magnitude. The play poses the question of what can happen when we discard our "undesirables" and what their alternate outcomes could be.
Featuring:
Sophie Gagnon, John Hart, William Serri, Eric Parness, Nora Kaye, Julia Geromin, Katie Lynn Esswein,
​Hayden Field, Elizabeth Burke, Michael Pichardo, Michael Pierce & Desiree Pinol​
Creative & Production Team: Jak Prince, Chrstina Tang, Ian Wehrle, Allison Crutchfield, Maggie Kissinger, Monica Blaze Leavitt, Emily Hart
THE GLORY OF LIVING Plays the following Performance Schedule as a part of Planet Connections Theatre Festivity :
Saturday June 24th 9:30PM
Tuesday June 27th 7:15PM
Friday June 30th 5PM
Wednesday July 5th 7PM
Friday July 7th 9:30PM
Sunday July 9th 3PM
​
Tickets are $18-$20 and available online at www.planetconnections.org or at the Door.
Additional information can be found online at www.risingsunnyc.com
All performances will be at
Flamboyan Theatre at The Clemente
107 Suffolk Street, New York, NY 10002
Between Rivington & Delancey
Subway: F, M, J, Z to Delancey/Essex
Run Time: 90 Minutes
Categories/Themes: Women's Stories, Survivor Stories, Crime, Psychological Studies
Advisories: Partial Nudity, Violence, Some Sexual Content
Our Charity Cause: As a part of the PCTF Mission, each show partners with a charity. Rising Sun will be partnering with a legal service organization that provides support and legal counsel to survivors of domestic violence and sexual abuse. They will be collecting donations, providing organizational information and volunteering for the organization at performances.
​THANK YOU TO OUR 2017 SPRING INDIE GO GO DONORS!
​Albert Morals, Alexandra Fadeeva, Amanda Charnley, Amanda Squitieri, Anna Gorman Smart,Anna Hogan, Annette Freeman, Anonymous X 11, Carl Kissinger, Charissa Jones, Denice Kondik, Derek Shore, Donna Latham, Edmond Malin, Elizabeth Johnson, Erin Kissinger, Erin McDermott, Esther Bell, Esther Babb, Eugene Belkin, Evelyn Zilberman, Evyn Box, Fran and Marv Buchanan, Hannah Williams, Hillary J Walker, Holly Morgan, Ingrid Kullberg-Bendz, Jenna Tanzola, Jill Miersch, John Hart, Jordan Muller, Julia Torres, Julie Miller, Kathleen Bienvenue, Kelly Garone, Kimberly Weinkle , Kitt Lavoie, Elizabeth Lacey, Laura Rohrman, Laurex Creations Inc., Leora Edut, Linda Quiles, Linda S. Nelson, Lindsay Latham, Linsey Edn, Lisa M Rosado, Lory Henning, Luiz Eduardo, M. Goldstein, Maggie Richards, Marian and Jorge, Martha D Conway, Mary Gorman, Maurya Sullivan, Meri Minatel, Mia Anderson, Michael Pichardo, Michael Richards, Michelle Schellekens, Mr Edn, Natividad Lapus, Paul Carreau, Paul Tiesler ,Salli Squitieri, Sally Bloom, Samantha Cunha, Scarlet Maressa Rivera, Shara Ashley Zeiger, Sophie Gagnon, Steven Diamant, Steven Malen, Suzanne Bachner & Bob Brader, Todd William Ristau, Tohewlin, Viktoria I.V. King & Wendy-Marie Martin