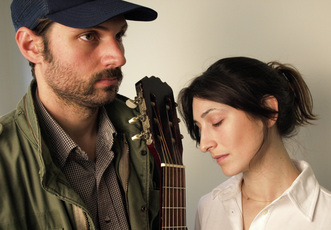 Goodnight Lovin' Trail
"..a finely produced play and a wonderful choice for those seeking a production with considerable substance"
".. an engaging and thought-provoking forty minutes"
Book This Critically Acclaimed Festival Hit for your school or venue!
VIEW THE GNTL TRAILER!
The Story...

"Goodnight Lovin' Trail" is a subtle and touching drama that takes place at a truck stop diner in West Texas, where two desperate and lonely strangers find redemption in each other's eyes while discussing a stolen guitar. The play explores raw human emotions and consequences while these two desperate characters navigate and come to terms with the choices they've made on the road of life.

PRESS, REVIEWS, MULTI MEDIA
Production Details & Specifications:

Goodnight Lovin' Trail is currently available for Bookings of private showings, university & conservatory appearances, small theatres and the festival circuit.

If the running time is deemed to short, we could pair this production with another short two person play to supplement time.

Run Time: 35-40 Minutes

Categories/Themes: One Act Play, Drama, Americana, Music, Social Status

Content: Some adult language, Cigarettes/Smoking, Mild Violence, Recommended for 13 and older

Cast Size: 2 Actors
Crew Size: 1-3 Persons, depending on run
Board Op & House staff available upon request
NY State Fireguard can also be provided upon request

Supplemental programs available: Master Class Acting Class, Post Show Discussion, Curriculum focused discussion in classroom, tailor made program upon request.

Supplemental Performance: This production works well with John Patrick Bray's "On Top" A 15 minute One Act Play, with 2 person cast and limited set.

Stage & Set Requirements:
Unit Set, No Scene or Costume Changes
This production works site specific and can be adapted for most venues
Set should be provided onsite by venue, arrangements can be made to bring set with production.
2 Working entries to stage required
1 working door
Bar/Counter (Rehearsal Cubes can work)
Small Cafe Table (needs to seat 2) & 2 Chairs
2 Bar Stools (Not required, optional)
Ability to light match/cigarette onstage is preferred and ideal

Lights: Flexible, ideally capable of 3 "looks" and require only 1 special/Focused spot.

A/V: CD or Ipod Connection, Amplified Sound required. For spaces less than 200 seats mics/Lavilers are not required



Production History

Goodnight Lovin' Trail was originally produced as part of the Actors Studio Drama School's 7th Annual Rep Season and was a Finalist for the 2004 Winter Strawberry One-Act Festival, Off-Off Broadway. It has had subsequent productions with The Rising Sun Performance Company (OOBR), Brooke Point Players (Virginia), and HQ Rep. (Lafayette, LA).

Recently "Goodnight Lovin' Trail" was produced at the Hub City Theatre Festival at the Cite des Arts in Lafayette, Louisiana, July 2007 by HQ Rep. At the festival, it won three awards: Audience Favorite, Best Actor (Myles McGinn), and Best Production Design (Rachel Adams).

Rising Sun Performance Company Productions:

June 2004
The 78th Street Theatre Lab, NYC
Part of a series featuring the works of John Patrick Bray

March/April 2009
The Best of The Strawberry Festival,
Producers Club, NYC
Invited participants, from previous festival favorites.
Originally published in The Best Plays from the Strawberry One-Act Festival, Vol. 1. (iUniverse, 2004).

October 2009
Wilmington FRINGE Festival
1 of only 25 performance participants selected from national applications

February to March 2011
The FRIGID Festival
Slated for 5 performances
1 of only 30 Productions selected from an International Pool of artists

EXTENDED! Festival HANGOVER,
One of only 8 productions invited for extended performance at the International FRIGID Festival!

The Creative Team

John Patrick Bray (Playwright) John holds a PhD in Theatre from LSU and has an MFA in Playwriting from the Actors Studio Drama School at New School University. His full length plays include the critically successful Trickster at the Gate (At Hand Theatre Co., OOBR), As We Speak (re:Directions Theatre, OOBR), and Hound (upcoming: Planet Connections Festivity, OOBR). His one-acts have been produced at the Samuel French Festival, the Strawberry One-Act Festival, and the RSPC's Aspire to Inspire series. John is a member of the Dramatists Guild of America Inc.

Akia (Director) is an active member of the flourishing Off-Off/Indie & Off Broadway theatre communities having produced, directed, and performed with numerous NYC companies since 1997. She has received critical praise for her direction of RSP long running hits such as "Hellcab", "Goodnight Lovin' Trail" and "The Last Supper". Akia is the Company Manager for the international sensation, The Blue Man Group at the Astor Place Theater.She is a Board Member of The Paul Butterfield Fund & Society, and Company Manager for The New York Innovative Theatre Awards & Foundation, where she serves on their honorary awards committee as Sub-Committee Chairman and as an At-Large Judge. Past notable credits include working on staff at Horse Trade Theatre Group, serving as General Manager for FRIGID New York's inaugural year, and returning as Volunteer Coordinator in 2009; she also served as Production Coordinator for nationally acclaimed Puerto Rican Traveling Theatre, overseeing the playwrights unit and INSIGHT 13 production series. She is a recipient of the New York Innovative Theatre Awards "Founders Award" for her contributions to the organization and Off Off Broadway Community.

Nic Mevoli ( Coffee and Cigarettes) Nic has been working with Rising Sun since 2003, and has appeared in many of their productions including: A Royal Toil, The Off Broadway Revival of An Adult Evening of Shel Silverstein, The Crucible, "Amerikan Mine" and RSP's 2004 & 2009 Productions of Good Night Lovin' Trail; most notably he received rave reviews as the Cab Driver in their hit production of Hellcab, which ran for 13 Weeks at Under St Marks Theater 2005-06. He co-wrote and starred in the acclaimed feature film "Exist" directed by Esther Bell. He has also been seen on the Chappelle Show on Comedy Central. He is also an accomplished scenic & props artist working on such films & TV shows as the Smurfs 3D, The Beaver, Jack Goes Boating, Men in Black 3, Gossip Girl and the Chappelle Show.

Joe Beaudin (Coffee and Cigarettes/Swing) is an ensemble member of Rising Sun Performance Company, and performed swing for the lead role in GNLT during the held over production at the FRIGID Festival in NYC. In summer of 2010, he portrayed the part of Zach in Rising Sun's critically acclaimed THE LAST SUPPER at the Red Room. Joe has been an actor and director in NYC for the past 11 years and has worked in some great spaces (and not so great spaces). His roles include: Sir Andrew in TWELFTH NIGHT, Young Pappy in THE TINKLEPACK PATROL and his 5 year stint with the sketch comedy group Mini Red Satan. Regional Theater: Arnold in THE BOYS NEXT DOOR (Connecticut Repertory), Bill Clinton in STARR'S LAST TAPE (Berkshire Theatre Festival), and Pompey in MEASURE FOR MEASURE (O'Connel Theatre in Illinois). Joe holds a BFA in acting from the University of Connecticut, and spent a year studying Meisner technique with Kathryn Gately.





HOW TO BOOK THE SHOW

Currently Goodnight Lovin Trail is available for Bookings in the North East of the United States. (within 5 hours of NYC)

RSP is acceptin booking requests 6 weeks to 12 months in advance for this production.

Booking Fees vary based on number of performances, duration of booking, travel distance, and production logistics.

To Request GNLT at your venue, school or event, please fill out the contact form below and a member of our staff will respond.